Dave and Chris Alpers of Redpath Orchards have grown up in the cherry business; ever since the family patriarch Raymond Alpers was hired in 1938 to tend and develop fruit crops in Michigan's beautiful Leelanau Peninsula. Redpath Orchards is set in one of the best places in the country for growing fruit, as water borders the gently sloping hills of the peninsula on both sides, creating ideal growing conditions.
CherryMan Maraschinos: The Video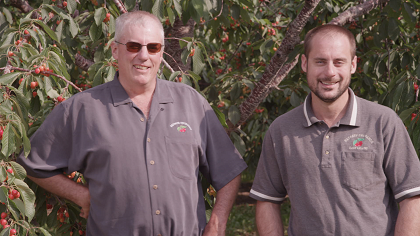 Dave's father bought his own small, 25-acre farm in 1952, and they've continued to grow their acreage of cherries and apples ever since. Today, all 900+ acres are both GAP and MAEAP Certified; qualifications which demonstrate the family's commitment to environmental excellence. Over 100 acres are dedicated to sweet cherries, the majority of which are destined to be maraschinos.
About a third of their sweet cherry acreage is the Emperor Francis variety; an ideal variety for maraschinos and a good producer. CherryMan values his relationship with the Alpers family, and enjoyed working with Dave and Chris to create the video.