Maraschino Cherries…Yum!
It's gotta have a cherry on top! CherryMan is super proud to be America's favorite maraschino cherry brand.
WooHoo!
| | |
| --- | --- |
| | Every CherryMan Farm to Market Maraschino Cherry is Non-GMO Project Verified! During the month of October, we're super proud to be a Platinum sponsor of Non-GMO Month. Click here to learn more about what's happening this month at a grocery store near you. |
CherryMan Recipes
CherryMan has been busy in the kitchen! Check out original cherry-rific maraschino cherry recipes for desserts, bevvies, gluten-free treats and other yums.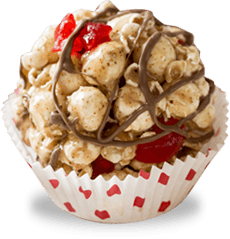 Buy Tasty Cherries
| | |
| --- | --- |
| | Let's go shopping! Come visit the CherryMan webstore for a TON of super sweet maraschino cherry sizes and styles that will surely satisfy all of your baking, topping, drinking, dipping and snacking needs. And don't forget to flaunt your cherry pride by shopping for some spiffy CherryMan loot for your whole family- even Fido! |
Export
+ Wholesale
Looking for more than a few maraschino cherries in a jar? Maybe a truckload? My good friends at Gray & Company are here to help you with all of your maraschino cherry and glacé fruit ingredient needs. They serve customers large and small, from Michigan to Malaysia, Texas to Thailand, South Carolina to South Africa, and all points in between.