USA Cherries Taste Amazing!
I am super proud that my cherries are grown in Michigan and Oregon...home to the prettiest orchards in the USA.
Soooo Snackable!
| | |
| --- | --- |
| | My little cutie 2oz. jar is the perfect size for snacking! Also makes an adorable gift. And stows away perfectly in your carry-on. Buy some now! |
CherryMan Recipes
Lookin' for unexpected ways to use maraschino cherries? CherryMan is happy to help! Check out my original maraschino cherry recipes for baked goods, bevvies and more.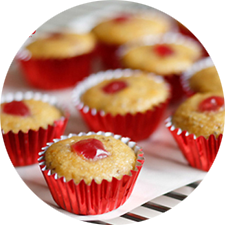 Buy Tasty Cherries
Export
+ Wholesale
Looking for more than a few maraschino cherries in a jar? Maybe a truckload? My good friends at Gray & Company are here to help you with all of your maraschino cherry and glacé fruit ingredient needs. They serve customers large and small, from Michigan to Malaysia, Texas to Thailand, South Carolina to South Africa, and all points in between.