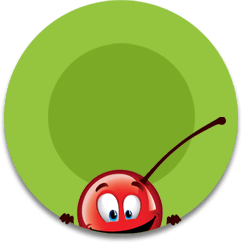 If you hadn't already guessed, I'm CherryMan! Not to be mistaken for Superman, Spiderman, Batman or other less-handsome superheroes (although I do possess many super talents) my mission is not to save the world, but to sweeten it...with delicious maraschino cherries, of course!
I come from Michigan and Oregon, and love working with my friends from Gray & Company.
There are all sorts of things you can do while you're visiting me on CherryMan.com. There are hundreds of yummy cherry recipes to try, fun activity pages for the kiddos, great info about the fine folks whom grow our cherries, and lots more to see + do. Stay a while…
Fun Facts
Oregon State University (OSU) is the only university to offer a course devoted completely to maraschino cherries. Go Beavers!
The cherry capital of the world is right here in the USA in Traverse City, Michigan.
"Cherry, Cherry" became singer/songwriter Neil Diamond's first hit in 1966 reaching #6 on the Billboard Hot 100 chart. Rolling Stone Magazine would later label "Cherry, Cherry" as "one of the greatest three-chord songs of all time".
In the state of Kansas, it was once illegal to serve ice cream on cherry pie.
The world record for cherry pit spitting is held by Brian "Young Gun" Kraus with a distance of 93 feet and 6.5 inches. Son of 16 time champion Rick "Pellet Gun" Krause, Brian's pit spitting talents are part of a three generation dynasty of Pit Spit champions.
World's Largest Cherry Pie: Charlevoix, Michigan, baked the World's Largest Cherry Pie in 1976 (17,420 pounds), only to be trumped by nearby Traverse, Michigan, in 1987 (28,350 pounds). Thus, there are 2 monuments boasting the World's Largest Cherry Pie only 50 miles apart. In 1992, however, the record was broken when the town of Oliver, British Columbia, baked a cherry pie that blew both records away - a whopping 39,683 pounds.
Backstreet Boy, Nick Carter, can tie a knot in a cherry stem in less than 30 seconds.
The world's heaviest cherry was grown by Gerardo Maggipinto (Italy) and weighed 21.69 g (0.76 oz) on 21 June 2003.
The record for picking the most cherries by hand in one day was set in 1958 by 17 year-old, Harold Roberston, who picked 1,225 pounds of cherries in one 12 hour period.