Not long after Oregon achieved statehood, an Irish immigrant family, by way of Canada, settled in Oregon's Willamette Valley. In 1882, the sign went up on Elliott Farms. The ground was poorly suited for the cultivation of their first crop – prunes – but the pioneer spirit persevered. Other acreage was acquired and the soil was more suitable for farming. Elliott Farms today is one of the largest cherry and prune growers in the Willamette Valley.

Bruce Elliott is the fourth generation steward of the farm. More than 55,000 trees are under his care, and to achieve this level of production, Bruce took to the American farming work ethic at a young age. "I was just a kid when I first started working on the farm, earning a dollar an hour. I know you can't do that today, but at the time it was just a part of farming life. By the time I was sixteen, I had made enough money on the farm to buy my own cherry orchard."
Bruce's father, Kenneth, learned his trade the same way. In the 1920's, Kenneth was delivering wagon loads of fruit to market before his teenage years. Each journey to Salem was a twelve hour round trip to get just a few miles as the crow flies.
It takes more than hard work to build a successful farming operation. Like any business, farming requires innovation and risk taking. Elliott Farms was one of the first to experiment with mechanical harvesting of cherries, back in 1963. Today mechanical harvesting is commonplace, and Elliott Farms machine harvests most of their 200+ acres of cherries.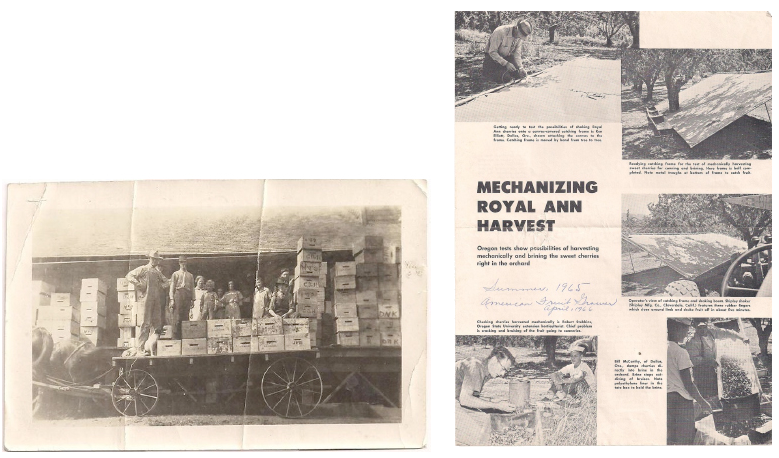 If your CherryMan Farm to Market Maraschinos are tagged with the Elliott Farms QR code, the fruit is likely a Royal Ann variety cherry, harvested right around the Fourth of July. It is about that time when the cherry crop peaks, and Elliott Farms is a beehive of activity from dawn til dusk. The cherries are delivered to Gray & Company's Oregon plant about thirty miles away. CherryMan and Elliott Farms have been partners for more than forty-five years, and we plan to see that partnership continue on to the next generation.